Junior Does

Home | Senior Does | Junior Does | Bucks | Nigerians | New Arrivals

Reference Does | Reference Bucks | For Sale | Breeding Schedule | On The Farm | Contact Us
Daystar's Days of Grace
Picture coming soon
"Dee-Dee" is our beautiful 3rd gen. Mini Nubian doeling (58.59/41.41%)
Her mother has earned her milk/butterfat star!
We are very happy with this lovely girl.
Stensgar Creek KH Cinderella
Picture coming soon
"Cindy" is our new addition so we can make new Mini Nubian lines.
She is a beautiful Nubian with such a sweet disposition.
We can't wait to see what she produces.
B-52's Sweet Romance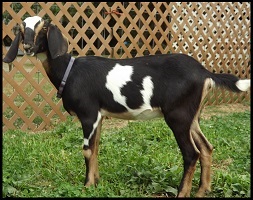 "Sweetie" is our other new addition to our herd.
She is such a lovely Nubian doeling.
We can't wait till she is of breeding age to see what she produces
with one of our Nigerian Dwarf Bucks for a new Mini Nubian line!
Copyright 2013 - Daystar's Farm
Website created & maintained by
Adonai's Beth Re'im