Beth' El Acres CB Frantastic
Frannie is a broken light buckskin with gorgeous Moonspots!!
Frannie comes from champion lines.
Some of her grandparents are blue eyed, some polled, and others are moonspotted.
Daystar's Lilly of the Valley
Lilly is a beautiful blue eyed little darling!!
She has wonderful dairy characteristics.
She has wonderful milking lines and lots of blue eyes in her pedigree.
She is the sweetest little thing and we are excited to have her in our herd.
SweetHomeFarm FreedomGoneWild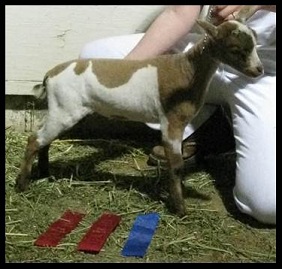 We are so excited to have Freedom in our herd!!
He is a beautiful boy and he has Moonspots!!!
He has a wonderful pedigree and lots on milk stars.
Daystar's Elijah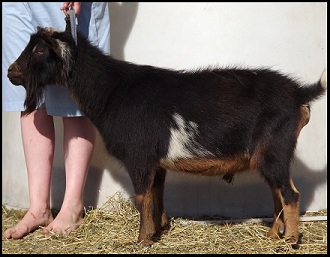 Elijah is a gorgeous buck with a great temperament, and wonderful dairy qualities.
He is from great milk and show lines.
We are excited to have him in our herd, especially since his father has recently passed.
He is also for Sale. See the "For Sale" page for more info.